Courses
Courses @ IfKW | German Courses | Our English-taught Classes for Exchange Students | Course Catalogue | Course choice and course registration | Important Information | Registration for the Exam | Transcript of Records
Courses @ IfKW
At our Department we offer various courses:
| | |
| --- | --- |
| Course Type | Characteristics |
| Vorlesung (V) | Lectures are usually attended by 100 to 200 students and are held each week by a Professor. Discussions are the exception; students are not expected to actively participate during these occasions. At home, students are expected to read the relevant literature. Towards the end of the semester, there will be a Klausur, a written test (usually in the last week of the lecture period). Lectures seem easy at first glance, however, you should consider this: You won't be able to practice your German in a lecture. Besides, the written tests are often rather challenging. |
| Seminar (S) | A seminar is usually attended by 15 to 30 students. You will probably have to give a presentation (together with fellow students, as a rule) and at the end of the semester, you will most likely write a term paper. A seminar also involves the reading of relevant literature. On occasion, there will be practical exercises. Discussions feature prominently in seminars. By and large, presentations pose no problems for exchange students, although the assignments at the end of the semester are often demanding (But you can discuss the conditions with your tutor). |
| Hauptseminar (HS) | These advanced seminars proceed like ordinary seminars, except they are conceived for third-year students. If you wish to attend a Hauptseminar you should be able to speak German quite well. Hauptseminars need to be taken together with an accompanying Seminar or Übung. |
| Übung (Ü) | Exercises are offered concomitantly to seminars or lectures. Practical skills are taught here. |
German Courses
Most courses at LMU are held in German. In addition, the exams at the end of the semesters will, at least partly, be in German. It is therefore important to use the semester for improving your knowledge of German. The best thing to do is: talk, talk, talk. Don't be timid: Speak with other students, go to parties and pipe up in the seminar. We recommend everyone takes a German course - after all, you want to communicate well in the country in which you will live for the next few months.
LMU does not offer free German courses, but there is a discount for exchange students on some of the classes and online courses. Please visit LMU's website for further information. In addition, LMU highly recommends that you participate in the Language Preparation and Orientation Program which is offered in March and September. This program consists of three parts: intensive language courses, excursions and supporting cultural programs and campus orientation.
Our English-taught Classes for Exchange Students
We always aim to offer our incoming students a broad and interesting course program. We always make sure that our students can take at least 30 ECTS (in English) without overlap. Therefore we strongly recommend attending our seminars for International Students - first of all, it's fun (!) and second, it is a place for all exchange students from the IfKW to get together.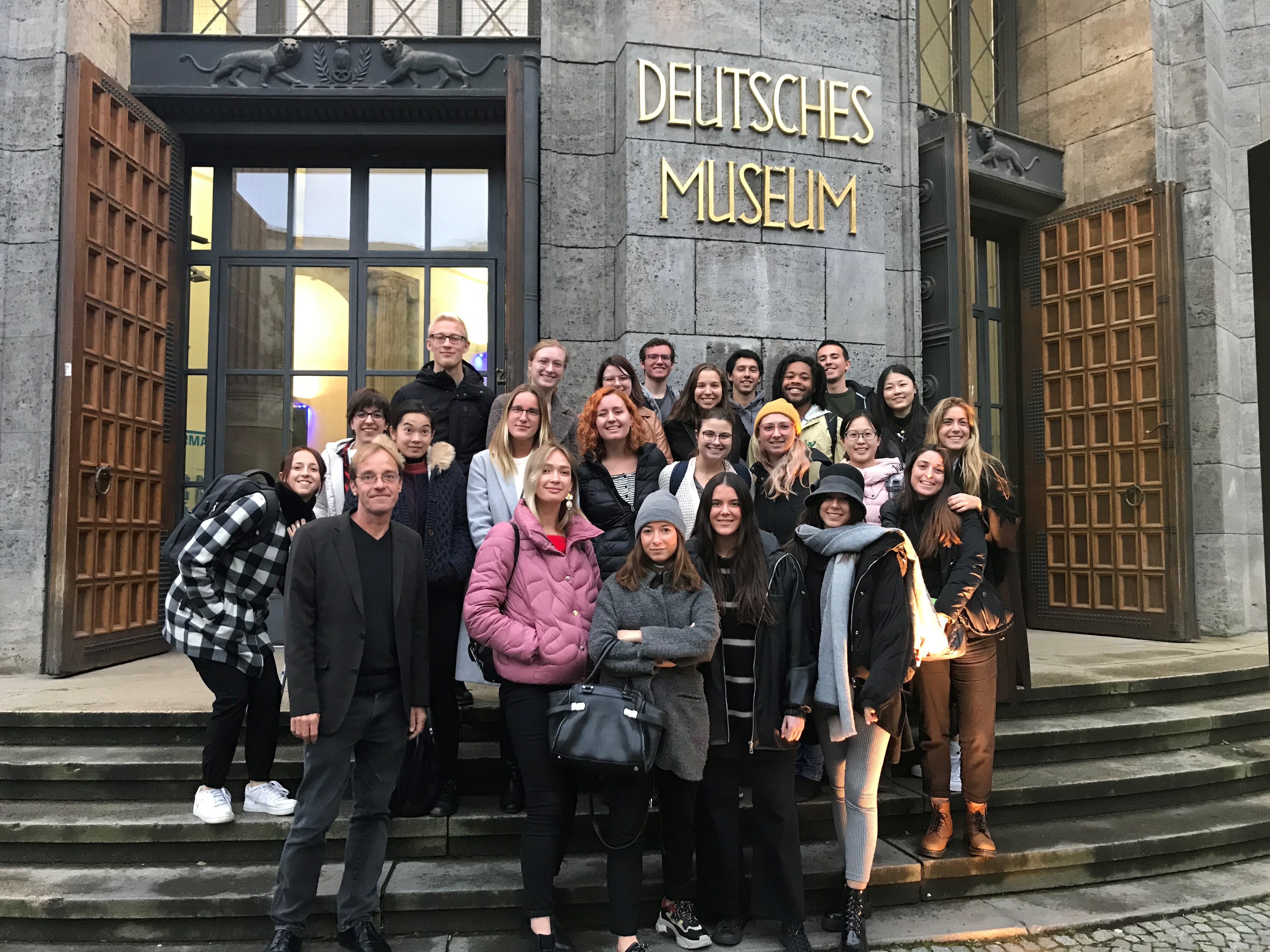 Each semester we offer a seminar particularly for international students: "Professional Communication in Munich" in the winter semester and "Media Institutions in Munich" in the summer semester. In these seminars, students learn a lot about the media landscape in Germany, and on excursions, they will get to know various institutions.
Furthermore, the IfKW offers a course on academic writing ("Writing for Academic Purposes") every semester as at LMU, much value is placed upon the accuracy of scientific research and it's propaedeutics. In our experience, many international students have problems in this area as they are socialized to different conventions in their home universities. Therefore, we offer a crash course in scientific propaedeutic (preparatory instruction). It takes place in one afternoon and is compulsory for all exchange students at IfKW. Your coordinator will give you further information.
Current information about your studies at IfKW and the courses taught in English in winter 2023/24 can be downloaded here (pdf).
Course Catalogue
You can access class descriptions in LMU's online course catalogue (LSF; no log-in needed; simply click on the course catalogue.
The catalogue is available in English and German. Please refer to "Faculty of Social Sciences" / "3/Kommunikationswissenschaft und Medienforschung" for classes at IfKW. Undergraduate students, please select the section "BA Hauptfach Kommunikationswissenschaft (PO 2015)".
Graduate students turn towards "MA Kommunikationswissenschaft". Please be aware that only Master students are allowed to follow Master courses!
Course choice and course registration
A few weeks prior to the start of the semester (end of August / end of February), the IfKW's international coordinator will send the enrolled students a form so that they may choose classes in our department. Please note that due to limited capacities, we will not be able to accept all applicants to all courses.
The IfKW has its own course registration for incoming students. Courses at the IfKW can be registered via our course portal.
If you have been assigned to the IfKW as an Incoming (see "How to apply?"), you will automatically receive an email with a link to our course portal. If you don't receive an email, please contact our international coordinators.
If you are enrolled at another department at LMU, please contact the IfKW coordinators, who will be happy to send you the link to the online course portal.
IMPORTANT: You do not have to apply directly online at LSF for the courses. Your coordinator at IfKW will apply for you. However, this only works for courses at IfKW – if you wish to attend courses in another department you must register yourself (the best would be to write an email to the lecturer).
Important for Erasmus+ students: As soon as you have received your final timetable, you can submit your learning agreement to your international coordinators at IfKW and your home university (by e-mail will do) in order to obtain your first scholarship rate.
On choosing courses you should consider the following:
Exchange students may only register for courses from the Bachelor Communication Studies; Master courses can only be attended by arrangement.
Ensure a balanced mix between seminars and lectures – otherwise, you have too much on your plate either during or at the end of the semester.
You should acquire between 20 and 30 ECTS per Semester (depending on your home university's requirements). Your coordinator will explain to you how many ECTS can be obtained for a class (there are different regulations for exchange and regular students).
Please agree upon your courses at IfKW with the coordinator of your home university on time.
Important Information
Course hours: If a course is scheduled for 10 am c.t., this means the course will begin at 10:15 am (c.t. = "cum tempore" – academic quarter delay); however, 10:00 am s.t. ("sine tempore") means that the course starts at 10 am sharp. The first week of the semester is vital - during the first sessions, work will be assigned and deadlines discussed.
Missing a class session: If you are unable to attend a course session (for whatever reason) you should tell your tutor beforehand (a brief email will do).
IMPORTANT: If you miss a session, it is not your tutor's responsibility to inform you about deadlines and make sure you receive important information. Should you fall ill you must inquire after the session (notably ask fellow students) about what happened in the course.
The first week of the semester is vital - during the first sessions, work will be assigned and deadlines discussed.
Registration for the Exam
Exchange students at IfKW do not need to apply for exams. If you wish to sit for an exam at another Institute, you must inquire with them regarding registration. Please note on all tests and assignments that you are an ERASMUS/exchange student. It makes sense to discuss with the tutor the procedure of the exams for exchange students a few weeks prior to the exam date. You could, for instance, ask whether a dictionary may be used and whether it would be all right to write an assignment in English.
Transcript of Records
Once you have completed your study programme at LMU, you will be able to obtain your transcript of records in which your LMU courses, grades and ECTS credits will be listed.
Transcripts are not issued automatically. You are responsible for initiating the transcript process yourself.
This LSF website will lead you through the steps you need to take.
In September and March respectively, you should have received most of your course grades.
Regularly check on LSF to see if all grades have been inserted in LSF.
If you visit courses in other departments as well, please ask your lecturers to send your grades and the number of ECTS to IfKW's international coordinator.
Downloads